News
Winners of National Research Award 2020
Congratulations to the Winners of the National Research Award 2020 under the PhD holder's category in the (ICT) sector from all across Oman.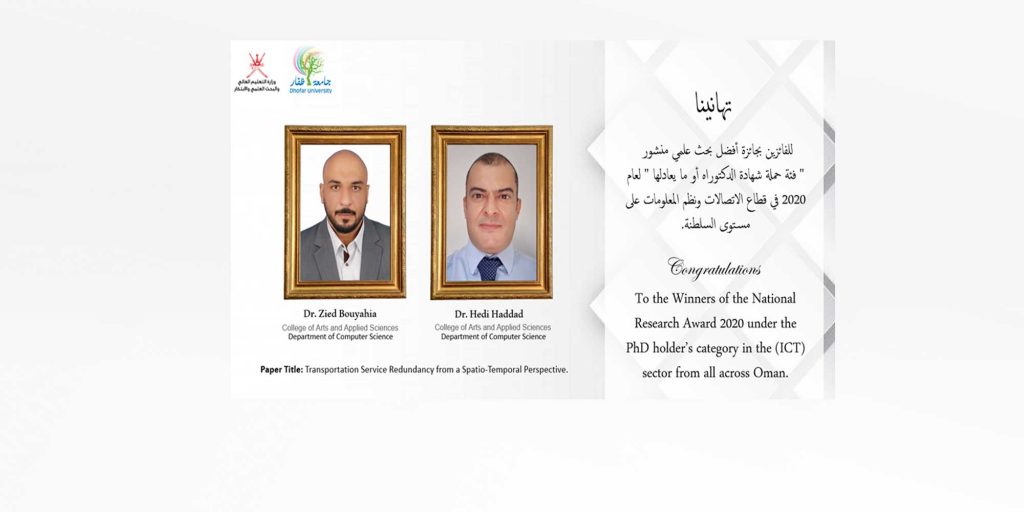 Results of Call 2020 for block funding program by MOHERI
The results of Call 2020 for block funding program by MOHERI (before TRC) have been announced in November 2020. Eleven research projects worth more than 80,000 OMR have been approved (refer to table below). It is the evidence of exceptional research efforts of our faculty and students.
   Faculty Projects (RG)
Budget
PI
1.
Novel poly(m-aminophenol)/metal nanoparticles hybrid material based bio-sensor for health care applications and food quality assessment
20,000
Ahmad, Mohammad Wasi
2.
Content evaluation of the Omani sciences textbooks of grades (1-8) in the light of TIMSS 2019 requirements
9,320
Abdelkarim, Raed
3.
Integrated Livestock Farming Approach and Socio-Economic Development of Sultanate of Oman
5,100
Sha, Nadia
4.
Development of bacterial cellulose composite films for practical applications in wound healing and pollutant degradation
20,000
Ul-Islam, Mazhar
5.
Anti Cancer Activity of Dhofar Medicinal Plants
20,000
Rashan, Luay
Students Projects (URG)
Budget
Team leader / Mentor
1.
Ex-situ synthesis of bactericidal bacterial cellulose nanocomposites for potential wound healing applications
1,500
Tabook, Muna

Mentor:

Ul-Islam, Mazhar

2.
Blockchain Technology and Electronic Supply Chain Management (eSCM)
1,500
ALmarhoon, Fatima

Mentor:

ALraja, Mansour Naser

3.
Recycling of Coconut Shell and Plastic Waste as Coarse Aggregates in Concrete Formation
1,000
Ba Uwain, Al Mutasam Abdollah Ali

Mentor:

Ahmad, Mohammad Wasi

4.
Detection of Heavy Metals in Milk of Camel from Various Areas of Dhofar Region Through Atomic Absorption Spectrophotometer
1,200
Batmira, Fatima Mohmmed

Mentor:

Ahmad, Mohammad Wasi

5.
Synthesis of Biodiesel from Fish Waste of Dhofar Region
1,150
Tabouk, Mohammed Said

Mentor:

Ahmad, Mohammad Wasi

6.
The Impacts of Digital Economy on Monetary System of Oman: An Empirical Analysis
800
AL Maashni, Amina

Mentor:

AL-Shubairi, Faris
Dhofar University subscribed to SCOPUS & Web of Science
We are pleased to inform you that Dhofar University has subscribed to Scopus and Web of Science; internationally recognized research databases. Through subscription, DU faculty, students and staff can now access and download full publications (articles, papers, books) indexed in Scopus and Web of Science. This is done to facilitate our researchers and to enhance University's research productivity and quality as per its research mission and vision.



Dhofar University has been granted COVID-19 Research Grant from TRC
The faculty members from the Department of Computer Science, College of Arts & Applied Sciences have been successfully awarded Grant under COVID-19 Research Grant from The Research Council, Muscat. The grant was announced in April as a part of the national efforts to combat global pandemic. The approved project titled "Towards a Generic Decision Support System for Communicable Diseases Control in Urban Environments of Oman– COVID19 as an Example" is led by Dr. Hedi Haddad along with Dr. Zied Bouyahya. The total grant awarded is 7,000.00 R.O. for 6 months.